Tabacon Hot Springs Resort and Grand Spa offers a selection of luxurious rooms and suites, all beautifully appointed with rich handicrafts and furnishings made by Costa Rican artisans. Rooms feature cable television, DVD, personal safes, mini bars and coffeemakers. Guest bathrooms include luxurious bathrobes, deluxe bath toiletries, hair dryers and bathtubs. Internet access is available.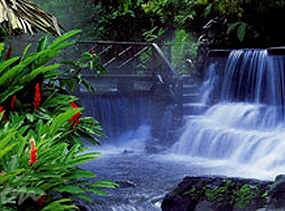 There are many naturally occurring hot springs around the world, many affiliated with volcanic activity. In Costa Rica, there are hot springs of different temperatures, flow volumes and mineral content that can be found in the regions around the Arenal, Irazu, Miravalles and Rincon de la Vieja Volcanos, and others in the Orosi Valley or near Ciudad Quesada in San Carlos. Bill Beard's has vacation & honeymoon packages with all the hot springs in Costa Rica. But the perfect combination of volume, temperature and mineral content (low sulfur content to prevent strong odors) that is present in Tabacon Hot Springs Resort is unique in Costa Rica and worldwide.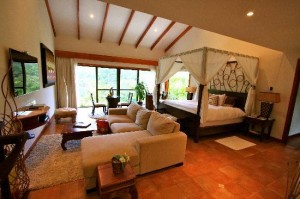 Choose from Forest Rooms or Suites and enjoy unlimited access to The Hot Springs, famous for the Thermal Waters.
Bill Beard's offers the hot springs as a day tour that can include lunch and/or dinner. The hot springs tour may be added to any itinerary including other hotels and resorts.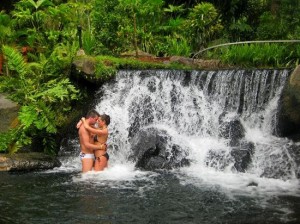 Honeymoon couples can enjoy private, romantic dining experiences at the Tabacon Hot Springs Resort and the Grand Spa where you can have a massage, brush scrub, hot oil, body wrap, pedicure, manicure and more. Minimum 2 night stays required year-round with the exception of Peak Season (Easter and Christmas/New Year) when a minimum stay of 3 nights is required.
To See A Short Video Clip:  CLICK HERE
CLICK HERE to see all the adventure tours available from Tabacon with Bill Beard's
To see all the adventure tours that Bill Beard's operates in Costa Rica: CLICK HERE
Our agents can set up the all inclusive or al a carte vacation package and itinerary you want throughout the country. There is no charge for our service and we'll save you money and lots of time and you'll get the vacation you want.  Bill  Beard's reservation office is located in La Fortuna, Costa Rica in the  shadow of Arenal Volcano, behind the Catholic Church near the world famous hot springs.
*We have a wonderful NEW DVD, it is 23 minutes: LEARN MORE
Bill Beard's Costa Rica has privately escorted tours and first class accommodations throughout the country that may be added to other packages.
We also offer world class adventure tours, scuba diving, snorkeling, surfing, sailing and fishing.
We arrange everything in advance, so you can relax and enjoy your vacation.
For single, triple, quad or group rates, contact our agents.
Our Reservation Office Is Located In La Fortuna, Costa Rica In The Shadow Of Arenal Volcano, behind the Catholic Church, Near The World Famous Hot Springs.
For Reservations & Information
Contact Our Office At 877 853-0538 or 954 453-5044 M – Sat., 9 – 9 ET
Sign up for our Latest Newsletter & Adventure Travel Deals
Tabacon Hot Springs Resort Grand Spa Costa Rica