Learn how to make the best of your underwater camera with TAUCHEN – Magazine -Photographer Timo Dersch
Trip Date: August 21, 2021 to September 01, 2021 (12 Days, 11 Nights)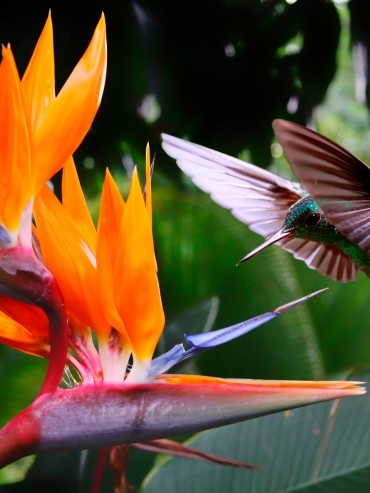 Take your photography skills to the next level on this 12-day wildlife safari and photography workshop in Costa Rica, a bio-diverse country in Central America home to amazing marine life and unique tropical wildlife. Join Timo on a 12-day photographic adventure through stunning Costa Rica as you learn what it means to shoot underwater, and how to use wide-angle and macro lenses to capture a diverse array of sea life such as sharks, schooling fish, turtles, eagle rays, and humpback whales. On land, we will search out hummingbirds, resplendent quetzals, toucans, other colorful birds, sloths, monkeys, frogs, flowers, and much more.
Situated between the Pacific and Caribbean oceans, this is the perfect destination for photographers seeking to capture pristine landscapes characterized by beaches, volcanoes, and tropical rainforests. Over 12 incredible days, you'll travel from San José to the northern Guanacaste region, into the Monteverde Cloud Forest, as well as the iconic Arenal Volcano region where volcanos, waterfalls, and rainforest make for spectacular scenery.
Program Highlights
Macro: Costa Rica offers a huge variety of macro life underwater. Learn how to find and photograph marine life.
Wide Angle : Dive spots at Catalinas and Bat Islands are teaming with big fish life and will provide us good wide-angle opportunities. Learn how to optimize strobe position and light integration. You will learn manual settings, strobe position slave strobes, additional lights and models
Whales and dolphins: Costa Rican waters are home to dozens of marine mammal species and spotted, or bottle nose dolphins common. Humpback whales migrate to the warmer waters of Costa Rica to mate, give birth, and raise their young from July to October.
Drone and Land Photography: Costa Rica has so much to offer both below and above the water.
Editing To press the shutter is only half of the work – editing brings the images to life. How do you use software like Lightroom to master your images.
Daily Photo Workshops Workshops will be given daily on topics such as wide-angle underwater photography, ambient light shots, diving with large animals, strobe exposure, and positions, avoiding backscatter and composition.
About the Trip Leader


Timo Dersch is an internationally recognized underwater photographer, freedive and scuba diving instructor. He works with national and international diving magazines and is also a brand ambassador for the underwater housing manufacturer "Hugyfot". As a result, Timo found a way to combine his passions for diving, traveling and journalism.
11 Nights hotel accommodation – San José (1), Guanacaste (7), Monteverde (1), La Fortuna (2)
Airport transfers to and from SJO airport
10 Dives (Including Papagayo, Catalina Islands, and Bat Islands) 3 Days of 2 Tank Diving Photo Workshop (Papagayo)
Visit Llanos de Cortés Waterfall
Wildlife Boat Trip – Palo Verde Reserve (Photography oriented tour- TIMO)
Transfer to Monteverde Cloud Forest
Jungle Night Tour
Cloud Forests and Hummingbirds Guided Tour
Boat Transfer across Lake Arenal
Full-Day Arenal Photography Focus Tour (Hanging Bridges, Waterfalls, Sloths, Tortilla making at Lunch, Evening Hot Springs)
Breakfast (11), Lunch (4), Dinner (2)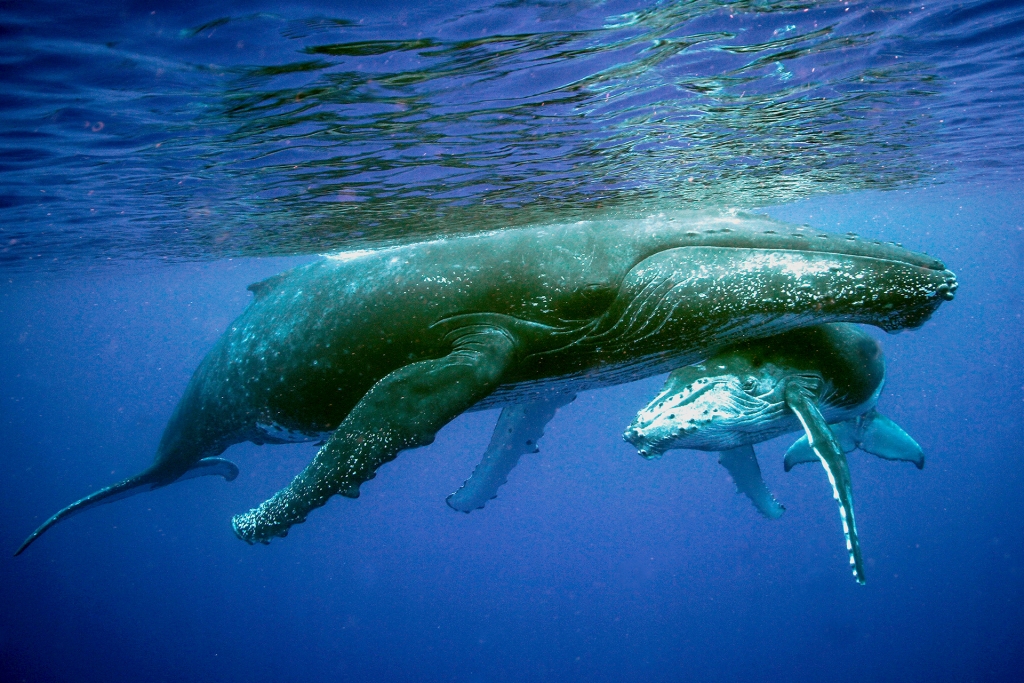 WHAT'S NOT INCLUDED:
Airfare to San José, Costa Rica.
Travel insurance.
Alcoholic beverages.
Bottled & canned beverages (e.g., soda, bottled water)
Medical expenses.
Laundry service.
Phone calls.
Day 1 - San José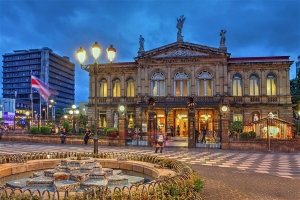 Guests will arrive in the capital city of Costa Rica in San José where you will be met by your driver for the short trip to your San José hotel. If you arrive early you will have time to explore the city at your own leisure, before you meet for a group meeting This will be a great opportunity for you to get to know your guide and fellow travelers, as you discuss the itinerary for the days ahead. It is the perfect time to ask any questions that you may have before the tour well and truly begins.
Arrival in San José
Airport Transfer San José Airport (SJO) to San José hotel
Overnight San José
Day 1 - San José
Day 2 – Guanacaste (B, L)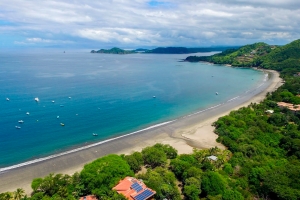 We will get an early start as we head north to the beach town of Playa Hermosa, Guanacaste. The beaches here are beautiful, with gorgeous scenery and blue waters.
On the way, we will make a stop for lunch and a visit to the Llanos de Cortés Waterfall. a spectacular cascading waterfall with a nice pool for a quick swim before reaching our hotel at the beach.
In the afternoon we will have a dive briefing and introduction to the underwater workshop over the next few days.
Transfer to Guanacaste stop at waterfall + lunch
Dive Briefing and Introduction to the photography workshop
Overnight Guanacaste Beach Hotel
Day 2 – Guanacaste (B, L)
Day 3,4,5,6,7 – Guanacaste (B)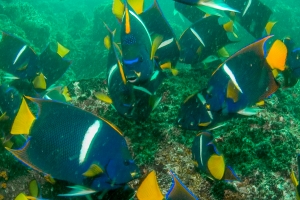 Spend the next 5 days diving the waters off the Pacific Coast of Costa Rica rich with marine life, (10 dives in total) Information will be given daily on topics such as wide-angle underwater photography, ambient light shots, diving with large animals, strobe exposure, and positions, avoiding backscatter and composition.
You will dive for 3 days locally throughout the Papagayo area, 1 day at Catalina Islands off of Playa Flamingo, and 1 day at the Bat Islands National Park area famous for the Bull sharks that frequent the area.
AM Scuba Diving and Photo Workshop
Overnight Guanacaste Beach Hote
Day 3,4,5,6,7 – Guanacaste (B)
Day 8 - Palo Verde National Park - Guanacaste (B, L)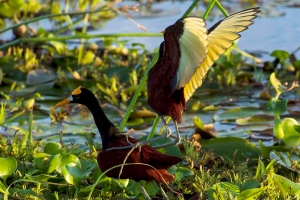 Today starts the land portion of the trip and we will explore three unique and different ecosystems over the next four days. Enjoy breakfast at the hotel before we head out for a wildlife boat trip on the Tempisque River. Palo Verde National park is an exceptional place for birdwatchers and nature lovers in general, a two hours boat trip will introduce us to these important ecosystems, gigantic crocodiles, monkeys, iguanas, and more wildlife than you ever imagined may be spotted. Great bird-watchers prizes can show up, such as the Jabiru, osprey, the white ibis, tiger herons, and scarlet macaws amongst others.
Wildlife Boat Trip Palo Verde reserve (Lunch Included)
Overnight Guanacaste Beach Hotel
Day 8 - Palo Verde National Park - Guanacaste (B, L)
Day 9 – Monteverde Cloud Forest (B, D)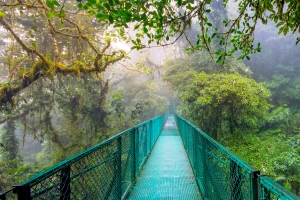 On day 9 we will head inland as you head up the continental divide to the misty cloud forest of Monteverde offering great views and a number of landscape compositions as we change from dry forest to cloud forest. A stop will be included at the Llanos de Cortés Waterfall where waters cascade into an incredible pool below before we arrive at Monteverde.
In the evening we'll again see what surprises the night time cloud forest has for us on a guided walk with one of the local guides followed by dinner at a local restaurant in the mountain town of Santa Elena.
Transfer to Monteverde Cloud Forest with stop at Llanos de Cortés
Night Tour
Overnight Monteverde Cloud Forest Hotel
Day 9 – Monteverde Cloud Forest (B, D)
Day 10 – Monteverde Cloud Forest to Arenal Volcano (B, L)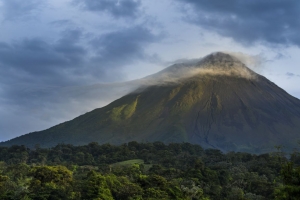 Cloud Forest and Hummingbirds – Photography Cloud Forest
You will spend the morning exploring the misty cloud forest and on the lookout for the famous Resplendent Quetzal that is endemic to the region. Among the subjects will be the high elevation hummingbirds. Capturing these tiny birds takes some skill as they flit from flower to flower feeding on nectar.
After the cloud forest visit, you will continue your adventure towards the Northern Caribbean lowlands of Costa Rica, home to the iconic Arenal Volcano and lots of tropical birds and wildlife. The focus for the next few days will be exploring the volcano area and wildlife photography as we immerse ourselves in the tropical rainforests of San Carlos.
Morning Cloud Forest Walk
Afternoon Lake Transfer – Arenal Volcano
Overnight Casa Luna
Day 10 – Monteverde Cloud Forest to Arenal Volcano (B, L)
Day 11 – Arenal Volcano (B, L, D)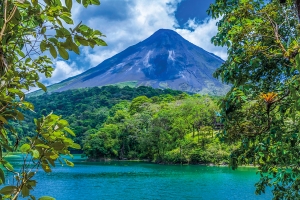 After breakfast, we will head out to explore the Arenal Volcano. There will be many opportunities to photograph the extraordinary Arenal volcano, surrounded by lush rainforest and tropical scenery We will visit the hanging bridges and the La Fortuna waterfall as we capture the volcano from different angles along the way. We will get the chance to have lunch and homemade tortillas with Dona Mara followed by a relaxing evening in the volcanic hot springs amidst a variety of abundant tropical gardens.
Explore Arenal Volcano
Overnight Casa Luna
Day 11 – Arenal Volcano (B, L, D)
Day 12 Departure (B)
You will have the morning to relax and explore the photographer-friendly grounds before packing up for your departure flight. We will head back to San José for drop off at the San José International airport for your evening departure home.
Transfer back to Arenal
Departure
Day 12 Departure (B)
Supplies List:
Participants are required to bring an underwater camera, laptop for editing
Optional recommended equipment: Memory Cards, battery, Battery charger, Flash and Macro Flash, wide-angle lenses, Macro, Telephoto, Tripod, ND-filter, additional lenses, power cord, drone (optional)
Once you have booked your trip you will receive an equipment checklist
Deposit
Please note that a reservation deposit of $400 USD per person is required to secure your booking for this photography workshop. Please bear in mind that photo tours in Costa Rica are in high demand. The earlier you reserve your trip the better availability.
Important Information
Itinerary works for flights in and out of San José (SJO) Costa Rica
Must be certified Diver to participate.
IMPORTANT NOTE: This is an estimated schedule & we'll do our best to stick to this itinerary, but certain conditions may necessitate changes. Good photographic experiences & plenty of chances to view wildlife will be our goals at all times.
Payment Terms
A deposit is required to secure your reservation. The balance of your payment is due 75 days prior to departure. We always charge in U.S. dollars (USD). Final payment is always conducted in USD. We also refund in USD. As Bill Beard Costa Rica LLC does not charge any booking or transaction fees, we cannot be held liable for any loss in currency exchange during transactions.
General Terms
Bill Beard Costa Rica LLC cannot be liable for any loss, damage, accidents, injuries, or sickness during your tour. The same applies to any changes in tour schedule due to weather, strikes, or any other force majeure. Bill Beard Costa Rica LLC reserve the right to change routes, schedules, and itineraries if needed because of weather, road, boat route conditions or should the necessity arise because of unforeseen reasons. We advise all travelers to purchase comprehensive travel insurance to minimize possible losses due to unforeseeable situations during your travel.
Cancellation and Refund Policy
We strongly recommend you to get a Trip Cancellation & Travel Insurance after booking your trip. If you cancel and the Workshop is otherwise filled, we will refund you the full amount you have paid towards the trip, minus a $200 service charge. If you cancel and the Workshop does not fill, then you will be refunded according to the following schedule, based on the full fee of the Workshop:
Greater than 76 days from the start date of the Workshop: full refund minus $200 service fee.
46 days or more: 75% refund
Less than 45 days: no refund
Refunds will be paid by the same method that the original payment was made.
With the rise in COVID-19 cases across the globe, many travelers are understandably concerned, and your health and safety during our workshops are of paramount importance. Because of the uncertain nature of the spread of the coronavirus we have also amended our trip cancellation policy. Please know that we will continue to update our protocols as the situation evolves.
If Bill Beard Costa Rica LLC cancels any of these workshops, participants will have the option of a full refund or a credit for a different 2021/2022 workshop.
At present, we STRONGLY advise all travelers to purchase a travel protection plan that will protect you in the event you or a family member become ill and cannot travel
Supplies List:
Price:
| | Double Occupancy | Single Occupancy |
| --- | --- | --- |
| Price per person USD | $3165 USD | $3810 USD |
Price:
Contact us to reserve your spot
Our vacation experts are waiting to assist you and prepare the trip as you have always dreamed.