Travel Impacts & Considerations
Rain will hold you back from very little in Costa Rica, except for perhaps travel into the most remote areas of the country where dirt roads pose a problem.
During the wet season, you can expect that the sun will be shining in the morning, but will be followed by some clouds and showers in the afternoon. It's a rinse, wash, repeat kind of thing.
You'll absolutely have an amazing trip during the rainy season – you just have to be okay with (no surprise) rain! If you're the adventurous type that's willing to get out and explore despite the dampness, then worry not, because this is the best time to visit Costa Rica for you.
During Costa Rica's rainy season, you'll enjoy:
Lush greenery that is at its prime; there's no other time of year to experience the beauty and serenity of Costa Rica
More alone time; i.e., there will be far fewer tourists than usual and you won't need to worry about capturing unwanted strangers in your trip photographs!
A reduced rate – travel packages and tours can typically be purchased at a fraction of the price as this is not what's considered to be Costa Rica's peak season
Just bring an umbrella, a rain poncho and your sense of adventure.
Here is a great sample of a green season vacation package:
11 Day 10 Night Beach And Mountain  Boutique Adventure Vacation With Scuba Diving – Boutique Beach Hotel  – Four Star Cloud Forest Resort – Five Star Mountain Resort & Spa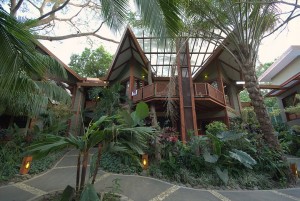 Bosque Del Mar Beach Front Hotel is a 32-room small all suite boutique hotel occupying unique beach front property in Playa Hermosa, Guanacaste directly on the Pacific Ocean.  This rustic, charming "Hemingway Type" beach hotel offers: bar – restaurant, swimming pool, Jacuzzi, lush tropical gardens with hammocks, laundry service and gated parking area. Bosque Del Mar Beach Front Hotel is a perfect ancestral trees, clear ocean and a beautiful soft sand beach.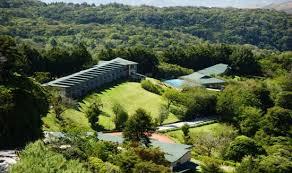 El Establo Monteverde Cloud Forest Resort is located in the misty cloud forest next to Monteverde National Preserve and offers the best quality services and charming staff that will make your trip an unforgettable experience. The area`s best view, heated indoor pools, spa,  in property transportation, restaurants, café-bars, special events center, internet access, souvenirs shop, tennis court, basketball court, mini soccer court, hiking trails, canopy tour,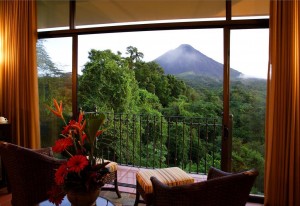 Arenal Kioro Mountain Resort & SPA is positioned on a hilltop close to Volcano Arenal with breathtaking vistas of the valley below and a panoramic view of the Arenal Volcano above. All of rooms at Arenal Kioro Mountain Resort are Suites and each has a private Jacuzzi, air conditioning, mini-bar, satellite television, safety deposit box, and hair dryer.
We also offer a vacation in a 8 day / 7 night / 3 dive day package without Monteverde Cloud Forest Reserve: LEARN MORE
11 Day 10 Night Beach And Mountain Adventure- FIT's (Not for groups)
Scuba Diving In Costa Rica  11 Day 10 Night 3 Dive Day Package
BOOKING WINDOW: OPEN
ADD CATALINA ISLANDS UPGRADE TO ONE OF THE LOCAL DIVE DAYS
Minimum 4 Persons Required to Pre-Book
2 TANK DIVE: ADD $50
ADD BAT ISLANDS UPGRADE TO ONE OF THE LOCAL DIVE DAYS
ADVANCED DIVERS ONLY
Minimum 6 Persons Required to Pre-Book
2 TANK DIVE: ADD $65  (Does NOT include $15 National Park Fee)
Private Round Trip Ground Transfer from Liberia Int'l Airport (LIR)
5 Nights Beach Front Hotel, Jr. Suite with Breakfast Daily
Afternoon Zip line tree top canopy tour
3 Days of Diving – 2-Tank Local Boat Dives, includes weights, weight belt, guide, snacks on board.
(Rental Equipment is available, but is

not

included)
Shared shuttle van ground transportation from beach to Monteverde
 2 Nights El Establo Mountain Resort Standard Room with Breakfast Daily

Don Juan Night Coffee  Tour
Guided hike Monteverde Cloud Forest
Shared Jeep-Boat-Jeep Transportation From Monteverde To Arenal Volcano
3 Nights Arenal Kioro (suite) with Breakfast Daily

Chocolate Tour & Whitewater River Rafting (child under 8 Substitute Safari Nature Float)
Tabacon Hot Springs Night Pass Entrance with dinner
Private Ground Transfer to Liberia (LIR) San Jose (SJO) Int'l Airport for departure:

NOTE – UPGRADED SUITES AVAILABLE AT BEACH PROPERTY
11 Day 10 Night Beach And Mountain Adventure
Day 1 (Arrival / Liberia Airport):  Fly into Liberia* International Airport (flight not included).  Private transfer with our meet-and-greet service to Bosque del Mar Beach Resort where your vacation will begin. Less than 30 minutes from Liberia International Airport.
Nt 1 Overnight Jr. Suite at Bosque del Mar Beach Resort (B)

Day 2: Enjoy morning breakfast and get ready to go diving. Most of the diving sites only 15 to 20 minutes from the beach!  Zip-Line Canopy Tour this afternoon. Afterward, grab a taxi and catch some dinner or nightlife and explore the nearby small town of Playas del Coco(B)
Nt 2 Overnight Jr. Suite at Bosque del Mar Beach Resort (B)
Day 3: After breakfast, your second day of diving. Consider upgrading from a local dive to a long-range Catalina Island trip. This area is famous for rays of all types: eagle rays, sting rays, mobula rays and manta rays. (B)
Nt 3 Overnight Jr. Suite at Bosque del Mar Beach Resort (B)
Day 4: After breakfast, day three of your dive package. You now have experience diving in Costa Rica's Pacific waters. If you are an advanced diver, you might want to upgrade from a local dive to a long-range Bat Island trip –famous for the large schools of jacks, spade fish, rainbow runners and Bull Sharks, of course!
Nt 4 Overnight Jr. Suite at Bosque del Mar Beach Resort (B)

Day 5: Breakfast at the hotel.  Today is a Free Day.  Add another day of diving or hang your gear up to dry and take one of our exciting adventure tours or the Tempisque Wildlife Boat Tour today.  Learn more about the optional tours available from this hotel.
Nt 5 Overnight Jr. Suite at Bosque del Mar Beach Resort (B)
Day 6: After breakfast, check out — Shared Shuttle to Monteverde and the cloud forest in Costa Rica's interior where you will stay 2 Nights at El Establo Mountain Resort with breakfast daily.  Enjoy some time relaxing at the hotels pool or spa or just relax and enjoy the fresh air and spectacular view of Monteverde and the Nicoya Peninsula.  On a clear day you can see for miles.  This evening you will enjoy the Don Juan Night Coffee Tour (includes shared transportation).
Nt 6 Overnight at El Establo (B)
Day 7: Breakfast At Hotel: Breakfast at hotel – Guided hike to Monteverde Cloud Forest Reserve (shared transportation included) Great opportunity for bird watching with a chance to spot the Resplendent Quetzal, Bell Bird and many others that frequent this birding mecca.  This afternoon you can explore the grounds of the hotel, relax or perhaps you want to ADD an Optiona Tour, such as the Hanging Bridges, Hummingbird Gallery, Butterfly Garden With Lunch.
Nt 7 Overnight Suite at Arenal Kioro Resort. (B)

Day 8: Check out.  This morning you will be picked up and taken to Lake Arenal for a boat crossing to continue on to Arenal.  Want to shedule another activity?  Ask us to change the transfer to the afternoon, and we can arrange another tour in Monteverde this morning, or if you like you can leave as scheduled and ask us to recommend an afternoon activity in Arenal.
Night 8: Overnight Arenal Kioro (B)

Day 9: Breakfast At Hotel: Sweet Chocolate & Whitewater River Rafting Combo tour with Lunch (dinner on own).  If you prefer pineapple over chocolate, we can offer the Sweet Pineapple and Rafting Tour as an alternative, just let our agents know!
Night 9: Overnight Arenal Kioro (B/L)
Day 10: You have a free morning, and Kioro has a fabulous spa. Don't forget to schedule some time for a massage or facial this morning before you relax by the pool or head to the thermal waters. But if you are up for an additional adrenaline-filled tour, just say the word, and we will be happy to make a recommendation. Tonight we have arranged a pick-up from Kioro to the world-famous Tabacon Hot Springs. An extensive buffet dinner at Tabacon is included. If you want to enjoy more time at Tabacon's gorgeous grounds and gardens, ask our agents about upgrading to a full day pass. (B/D)
Night 10: Overnight Arenal Kioro (B)

Day 11 (Departure): Today, you return home. You won't soon forget your guide or all of your wonderful experiences in Costa Rica. You should be checked out and ready to leave your hotel 5 and 1/2 hours before your scheduled flight departure time to have time to pay departure taxes, check-in at airline counter, and clear immigration and security checks at the Liberia (LIR) or San Jose (SJO) International airports before you board the plane your flight home. (B)
Playa Hermosa Beach is a beautiful, elongated stretch of beach and has won the Costa Rican Blue Flag for cleanliness since its inception Just step out of your suite on to this gorgeous beach and watch a breathtaking sunset. Enjoy some of the best sunsets you will ever experience.  Perfect beach for families and beach lovers,
This lovely beach is quiet and relaxing and has many other local restaurants within walking distance.

OPTIONAL AFTERNOON TOURS DURING BEACH STAY:
(Day 2, 3, 4 Afternoon/Day 5 Morning)
• Add Shared Transport-Zip Line Canopy Tour
• Add Private Transport-Tempisque/Palo Verde-Guaytil
• Add Shared Transport-Sunset Cruise with Snacks & Drinks
• Add Scuba Diving (2-Tank Local Boat Dives)
OPTIONAL TOURS DURING MONTEVERDE STAY:
(Afternoon day 6 & day 7/Morning day 8)
Monteverde Hanging Bridges
Horseback Riding TourMonteverde Cheese Factory
Coffee & Chocolate Tour
Eternal Children's Forest Tour
Santa Elena Sugar Mill Typical Tour
OPTIONAL TOURS DURING ARENAL STAY:
(Day 8 Afternoon/Day 10 Morning or afternoon):
• Shared Transport-Zip Line Canopy Tour
• Canyoning & Waterfall Rappelling Tour
• Shared Transport-Horseback Riding to Waterfall
• Shared Transport-ATV Tour
"Diver" refers to a "Certified Scuba Diver"
If You Are Not Certified? We can certify you to dive while you are on your vacation here. We also offer advanced classes, rescue and divemaster in Costa Rica.
If you are taking a certification course, please bring MEDICAL STATEMENT signed by your physician if you have any conditions that could preclude you from participation in Scuba Diving.
If you are doing a Referral Certification course to complete a course you started at another dive shop before coming to Costa Rica, please bring all of the REFERRAL PAPERWORK you were given by your instructor as well as you MEDICAL STATEMENT.
To See A Short Video Clip: CLICK HERE
11 Day 10 Night Beach And Mountain Adventure
Booking Window – OPEN
TRAVEL WINDOW: May 1 – Jun 30 AND Aug 15 – Dec 15, 2016

DOUBLE (2 Px)      NON-DIVER: $1629 PP               DIVER: $1884 PP
DOUBLE (4 Px+)    NON-DIVER: $1549 PP               DIVER: $1804 PP
TRIPLE                  NON-DIVER: $1413 PP                DIVER: $1668 PP
SGL TRAVELER      NON-DIVER: $2807 PP                DIVER: $3062 PP
---
TRAVEL WINDOW: July 1 – Aug 14, 2016

DOUBLE (2 Px)      NON-DIVER: $1714 PP               DIVER: $1969 PP
DOUBLE (4 Px+)    NON-DIVER: $1634 PP               DIVER: $1889 PP
TRIPLE                  NON-DIVER: $1484 PP                DIVER: $1739 PP
SGL TRAVELER      NON-DIVER: $3042PP                DIVER: $3297 PP
---
*CHILD 0-3           NON-DIVER  $ 568
*CHILD 4-7           NON-DIVER: $  674 PP
*CHILD 8- 11        NON-DIVER: $ 1475
*CHILD 12 NON-DIVER: $1475 PP   CHILD DIVER (Age 10-12): $1730 PP
*Child Prices Valid only if traveling with adults and sharing room, max 2 children per room
---
$50 TO ADD CATALINA ISLANDS UPGRADE TO ONE OF THE LOCAL DIVE DAYS
Minimum 4 Persons Required to Pre-Book Catalina Islands

$65 TO ADD BAT ISLANDS UPGRADE TO ONE OF THE LOCAL DIVE DAYS
**ADVANCED DIVERS ONLY**
Minimum 6 Persons Required to Pre-Book Bat Islands
Does NOT include $15 National Park Fee
NEW BOOKINGS ONLY (DOES NOT APPLY FOR GROUP BOOKINGS) & YES, You may add on nights, Dive Days & Tours
"What to Bring"
Casual Beach Clothing

Bathing Suit

Hat/Visor

Rain Jacket or Umbrella, Flashlight




Sunscreen, Repellent

Camera, Film Cards

Optional Items: Binoculars, Polarized Sunglasses
SCUBA DIVERS:
Don't forget your "C" card (Proof of Certification)

Personal Scuba diving equipment (rental gear is available)

Dive Flashlight

Recommended: DAN Dive Insurance

Optional Items: Camera, Housing, Save-A-Dive Kit, Sting-Stop
[/tab][tab title="Photo Gallery"]
[thethe-image-slider name=" Bosque – Scuba"]
Adventure Tours That Bill Beard's Operates Throughout Costa Rica: LEARN MORE
Bill Beard's Costa Rica has privately escorted tours and first class accommodations  throughout the country that may be added to other packages.
We also offer world class adventure tours, scuba diving, snorkeling, surfing, sailing and fishing.
We arrange everything in advance, so you can relax and enjoy your vacation.
For single, triple, quad or group rates, contact our agents.
Our Reservation Office Is Located In La Fortuna, Costa Rica In The Shadow Of Arenal Volcano, behind the Catholic Church, Near The World Famous Hot Springs.
For Reservations & Information
Contact Our Office At 877 853-0538 or 954 453-5044 M – Sat., 9 – 9 ET
Sign up for our Latest Newsletter & Adventure Travel Deals
Costa Rica Scuba Diving with Bill Beard - Family Vacation Package
Scuba Diving Adventure Vacation Package Villas Sol All Inclusive Resort
IMPORTANT NOTE – Please be advised that every reasonable effort has been made to keep all prices up to date and free of errors or omissions.  Prices and policies from our vendors and the Costa Rican government are subject to change without notice. Invoices will be issued at the time of booking to confirm all final rates and offers.
Beach And Mountain Diving Adventure Vacation
Costa Rica scuba diving & adventure Tours.
11 Day 10 Night Beach And Mountain Adventure