Nadine and Bill List The Seventeen Most Asked Questions By Travelers To Costa Rica
Bill Beards FAQ
Frequently Asked Questions about Costa Rica
Q – Do I need a passport to travel to Costa Rica?
A – Yes, everyone, including infants, needs a passport with at least six months remaining before expiration to travel to Costa Rica and re-enter the United States.
Q – When is the best time to visit Costa Rica?
A – Stock answer is "whenever you can get here." The dry season is from December to May and rainy season is from June to November with overlap in the transition months. We love the rainy season. The ocean is warm, seas flat calm & everything is green and lush. We also love the dry season because the giant Pacific Manta Rays, orcas, humpback whales etc show up for the cooler water. Rains are heaviest in Sept-Oct, but that is when it is dry season in Arenal area.
Q – Is the water safe to drink?
A – Yes, the water is perfectly safe to drink and we personally never buy the bottled water.
Q – Are shots required to enter Costa Rica from North America, or Europe.
A – No, More questions? go to CDC http://wwwn.cdc.gov/travel/destinationCostaRica.aspx
Q – When is the hurricane season.
A – We do not have a hurricane season in Costa Rica. Costa Rica is 10 degrees from the equator, and not in the normal hurricane zone.
Q – Which airport should I fly into?
A – For North West Pacific Beaches & Guanacaste: Liberia (LIR).
For Central & South Pacific, Atlantic side (Caribbean), San Jose, Cocos Islands, Pacuare River, Corcovado, Tortuguero: San Jose (SJO)
Q – Should I stay on the Pacific or the Caribbean coast?
A – It depends on what you would like to do. Both sides have beautiful beaches. The Pacific side is far more developed. Caribbean side is very rustic and has a Jamaican influence. Costa Rica scuba diving is better on the Pacific
Q – What about internet and phone service.
A – Yes, all major hotels and some smaller hotels have interned service. All have phone service.
Q – What about medical service?
A – We have wonderful Doctors and hospitals in Costa Rica.
Q – Is there a hyperbaric recompression chamber in Costa Rica.
A – Yes, but the manned chambers are located in San Jose.
Q – What should I bring for scuba diving & adventure activities
A – See our web site's Scuba Pages for the specific activity you are planning for infomation
Q – Is it safe to drive in Costa Rica?
A – Yes. To rent a vehicle you need a valid drivers license (US or other), credit card and passport. However FYI, the roads are not in very good condition or well marked and directions are slim to none. Consider a private guide and vehicle.
Q – Do we need a guide in the National Parks.
A – Yes, you see more and the naturalist guides are extremely informative.
Q – Is there a departure tax.
A – Yes. Most of the airlines have been including this tax in the price of your ticket since 2016, but please check if you are not on one of the major airlines flying to Costa Rica from the US. If not included, the cost is $29.00 and must be paid and the form filled out before you can enter the airline ticket counter. NOTE: As of August 2015 most airlines are now including the departure taxi in the air fare.
Q – Are there duty free stores in the airports.
A – Yes
Q – Do I need to change money.
A – No, US currency and Euros are accepted everywhere that you will be going.
Q – What about tips?
A – 10% is customary and is already included on your check at restaurants by law. Please bring tip money for your guides. $5 to $10 per person a day is customary and is well worth it.(river, zip line & canyoning, dive, ATV, bird watching Etc. More for private fishing charters, depending??)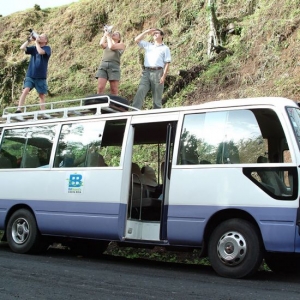 If you have any questions that you don't see in Bill Beards FAQ, please contact our office located in La Fortuna, Costa Rica in the shadow of Arenal Volcano, behind the Catholic Church, near the world famous hot springs.