If your family has a weakness for fabulous pools with breathtaking views Then Costa Rica should be high on the list for your next vacation. Our reservation staff has compiled a list of the top five Pacific Ocean Beach Resort Pools and the top Five Mountain Resort Pools with fantastic views and thermal waters from the volcano.
The Flamingo Beach Resort pool offers one of the best sunsets in Costa Rica – right over the pool! You can sit at the swim up or dry bar and watch the sunset. With tons of onsite amenities, a meal plan option and only a few steps to the sand you really don't need to go far for a great beach vacation. There is a wonderful swim up bar for the adults and a play area for the younger guests. Directly on the beach is the restaurant and bar and the bar area on the second floor has the most gorgeous view of the Pacific Ocean you could ever imagine. The view is the Pacific Ocean and Catalina Islands, premier area for scuba diving, sport fishing and afternoon sailing and sunset cruises.
Dreams Las Mareas Costa Rica is the newest vibrant beach getaway for couples, families and singles to enjoy all the inclusions of an Unlimited-Luxury® escape in a privileged location. Located on sugar-white sand beach and surrounded by lush green mountains & jungles on Playa El Jobo in the Guanacaste region of Costa Rica, guests of all ages enjoy an action–packed vacation featuring watersports, land activities, and swimming pools while sunbathing or laying under a thatched palapa. Continue the fun into the evenings with live nightly entertainment, outdoor bars and lounges and so much more! Here are some tours we operate from Dreams: GO HERE
One of the largest pools in Central America is found at the beachfront of The Westin Golf Resort Spa Playa Conchal. This all-inclusive resort with nightly entertainment and tons of onsite amenities really is perfect for everyone!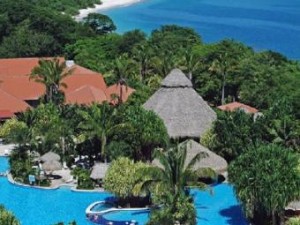 The Westin is a Five Star, All Suite, All Inclusive, Exclusive, Golf & Beach Resort that was designed by noted Spanish architect Alvaro Sánz, it resembles a luxurious seaside village set amidst meandering walkways, bubbling fountains, shimmering lakes and lush tropical gardens.The management at The Westin Golf Resort – Spa, Playa Conchal has redesigned the concept of the worry-free family vacation by offering a top-of-the-line, All-inclusive Beach & Golf Resort in Central America. The resort boasts 406 luxurious guest rooms, including 122 Royal Suites and two Presidential Suites with garden or ocean view.
The SPA is all you would expect in a five star resort. There is a disco for your after hours enjoyment. This is a perfect setting for a Costa Rica honeymoon or a destination wedding and you can prepare to be pampered.
Kura Design Villas is an exclusive boutique hotel set high above the southern coast of Costa Rica, overlooking the Uvita Bay and Ballena National Marine Park. It offers six romantic, luxury suites blended into the Costa Rican tropical rainforest. Once you arrive, it's easy to understand why Forbes named it "the most glamorous, romantic resort in Costa Rica."Built on an impressive mountain ridge with tropical, minimalist architecture, it's a perfect setting for a luxurious romantic vacation experience along with breathtaking Pacific views, which include the magnificent 'whales tail' from the National Park. The hotel's 19 meter (62 feet) infinity salt water pool with a spectacular outdoor poolside lounge is the highlight of the property and maybe one of the best pools in the country. There are even a few secrets to discover once you arrive! The spa offers excellent service that shouldn't be missed either.
The JW Marriott Costa Rica boasts one of the largest pools in Central America—it is lit up luxuriously at night and perfect for families and adults alike. It features a free flowing pool that covers more than 25.000 feet of area that provides a combination of private alcoves for couples and fun filled excitement for families. The full service Spa includes 22 treatment rooms, beauty parlor, serenity lagoon with deluxe palapas for outdoor massages and a state of the art two-level gym. An 18-hole championship golf course neighbors the JW Marriott Costa Rica and features a challenging experience with breathtaking views of flourishing landscapes and the Pacific Ocean. The course is considered the best & prettiest in Costa Rica. The hotel offers tons of amenities, various dining options and has trails to three surrounding beaches, one of which is only steps away
Mountain Resorts Near Arenal Volcano and the world famous hot springs:
The Springs Resort & Spa: With an average daytime high temperature of 80˚F. in the shade and nighttime lows averaging 70˚F you are sure to enjoy countless comfortable hours in your balcony hammock, al fresco dining, or sipping a frothy tropical cocktail in one of our spring pools. Natural Hot & Cold Springs, Pools & Waterfalls, an Old Fashioned Swimming Hole & the Arenal River. Our eighteen freeform, landscaped pools provide our guests with great views of the volcano and a multitude of options. With temperatures ranging from 76˚F to 103˚F and environments that vary from raging waterfalls to tranquil forest experiences our guests can find the perfect pool for their mood and the current weather conditions.
Tabacon Hot Springs Resort and Grand Spa is unique in Costa Rica and worldwide.  Travel & Leisure's World's Best Destination Spas August 2016 has Tabacon as #3. There are many naturally occurring hot springs around the world, many affiliated with volcanic activity. In Costa Rica, there are hot springs of different temperatures, flow volumes and mineral content that can be found in Costa Rica but the perfect combination of volume, temperature and mineral content (low sulfur content to prevent strong odors) that is present in Tabacon Hot Springs Resort
The Royal Corin Thermal Water Spa is the perfect place to be if you want to enjoy pools, thermal waters, saunas and spa withing a few steps from beautiful accommodations and a view of Arneal Volcano. There is a large fresh water pool, 2 hot spring pools, 4 hot spring jacuzzis and 2 hot spring jacuzzis with waterfalls.

The Loto Spa at the Hotel Royal Corin is a wonderful spot to rest and relax. That's the primary purpose of the Loto Spa where you can enjoy true relaxation moments and rest to ease stress and tensions. The highly qualified staff will offer you  excellent service that will help you to forget routine and daily complication. Discover the wonderful experience of a pro massage. After your treatment, relaxation areas allow you to enjoy the sauna, Jacuzzis or pleasant thermal waters. If you prefer you can stay in the private massages rooms and enjoy a drink in a privates Jacuzzis.
Arenal Kioro Suites and Spa takes full advantage of its natural setting: The rooms, restaurants, and pool all offer stunning views of Arenal Volcano. Big suites all come with large Jacuzzis and two terraces. Sit in the pool and enjoy your favorite beverage while observing Arenal Volcano.There are three restaurants , a full-service spa, and an outdoor pool are available at this smoke-free hotel. Free buffet breakfast is provided, as well as free WiFi in public areas, free self parking, and a free manager's reception. Other amenities include 2 bars/lounges, a fitness center, and a poolside bar. Treat yourself to tranquility and awake your senses with the sounds of nature with a massage, body wrap, manicure or pedicure at Neidin Spa.
Arenal Manoa Hotel is a beautiful place to rest, relax and enjoy the marvelous view of Arenal Volcano. Surrounded by gardens, pastures and animals, our rooms have been designed so that each one offers you a panoramic view of the volcano. Our visitors can take advantage of our spacious gardens for walking and meditation as well as the opportunities to see the daily operations of a typical Costa Rican farm.  Enjoy the spa and the nergizing treatments designed to give your body and face the organic nourishment they deserve while relaxing you and enhancing your sense of well-being. You can also get a couple massage! All Rooms at Hotel Arenal Manoa are Junior Suites.
If you can't decide between beach or mountain, not to worry, we can arrange a few nights in each with transportation in-between. Here is a list of tours Bill Beard's operates from these beach resorts. GO HERE – This is the list of tours from the mountain resorts: GO HERE

Sublimely beautiful Costa Rica has something for everyone. The treats range from exciting adventure to leisurely relaxation, and everything in between that we can add to your vacation package. Furthermore, tourists can sample the laid-back national lifestyle that ticos (the name the Costa Ricans call themselves) refer to as 'Pura Vida' – 'pure life': no stress, no hassle. All this, combined with unsurpassed natural beauty and a developed and accommodating tourist industry, makes Costa Rica a wonderful place to visit and vacation.
Our agents can set up the all inclusive or al a carte vacation package and itinerary you want throughout the country. There is no charge for our service and we'll save you money and lots of time and you'll get the vacation you want.
*We have a wonderful NEW DVD, it is 23 minutes: LEARN MORE
To see all the adventure tours that Bill Beard's operates Throughout Costa Rica: CLICK HERE
Bill Beard's Costa Rica has privately escorted tours and first class accommodations throughout the country that may be added to other packages.
We also offer world class adventure tours, scuba diving, snorkeling, surfing, sailing and fishing.
We arrange everything in advance, so you can relax and enjoy your vacation.
For single, triple, quad or group rates, contact our agents.
Our Reservation Office Is Located In La Fortuna, Costa Rica In The Shadow Of Arenal Volcano, behind the Catholic Church, Near The World Famous Hot Springs.

For Reservations & Information

Contact Our Office At 877 853-0538 or 954 453-5044 M – Sat., 9 – 9 ET
Sign up for our Latest Newsletter & Adventure Travel Deals
IMPORTANT NOTE – Please be advised that every reasonable effort has been made to keep all prices up to date and free of errors or omissions. Prices and policies from our vendors and the Costa Rican government are subject to change without notice. Invoices will be issued at the time of booking to confirm all final rates and offers.