Kura Design Villas In Costa Rica: The Most Glamorous, Romantic Resort In Costa Rica: Here's what you really need to know about Kura. The managers, a marine biologist and an architect, have made appreciating nature and the sea downright sexy. The name means "jaguar," and the jungle cat appears in some of the stylized iconography, but otherwise, there's nothing folkloric. It's far more contemporary cosmopolitan hideaway than homey hacienda or upscale surf shack, two of the motifs that have long defined many Costa Rican micro-hotels.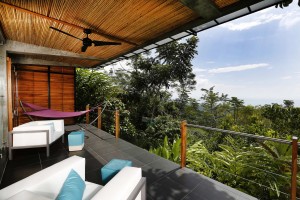 Kura's six freestanding junior suites and villas and Instagram-ready infinity pool are perched atop a bluff some 1,000 feet above the "whale's tail" of Uvita Beach, which emerges at low tide. Many of the rooms and public spaces are at the height of the rain forest canopy, which makes them prime spots for bird-watching. Even the view from the public washroom near the lounge area is drop-dead gorgeous.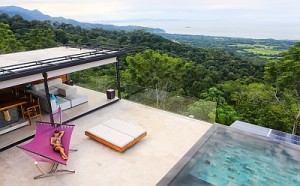 It's the kind of place you'll want to go with someone you like very much, as the rooms have glass showers (double-headed and big enough for two) within their living areas, two light settings—dim and dimmer—and furniture that's more suited to lounging than to sitting upright to work or read. Some of their walls are a rich, attractive exotic wood, while their western-facing walls are entirely glass, and each has its own very private terrace with chairs and a modern, bright purple hammock.
The friendly, local staff will give you a ride to the beach and back, with water and towels for the adventure, or send you out on organized excursions to see waterfalls in the rain forest or whales in the Pacific. But many guests seem to quickly decide that they'd rather stay put, by enticing saltwater swimming pool, in their rooms, in the pretty one-couple's-room spa or at the poolside restaurant and Diablitos Bar, which serves interesting tropical cocktails and mighty fine seafood tiraditos in the evenings.
It likely goes without saying that Kura is an adults-only place, and honeymoons—which book up months in advance—are big business. There are far worse places to celebrate the official start of a life together.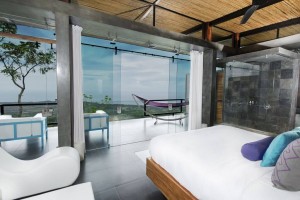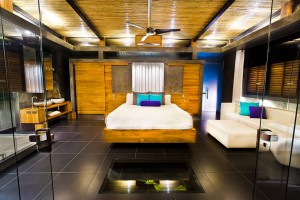 The seductive Suite Villas take romance to a new level. We provide an irresistible haven isolated in the tropical jungle. The open-floor design, luxurious amenities and breathtaking forest and ocean views arouse the senses and sweep couples into sheer ecstasy. Experience the ultimate combination of luxury, tranquility and comfort.
Our spectacularly elegant infinity pool and adjoining lounge and bar area set new standards of architectural design. Ponder an uninterrupted 180-degree view of the Pacific horizon. Dive or wade into the crystal-clear salt-water pool and enjoy the state-of-the-art underwater sound system. Your favorite songs soothingly echo as you relax with a dip or swim. Our enchanting fire pit emits flames right out of the water!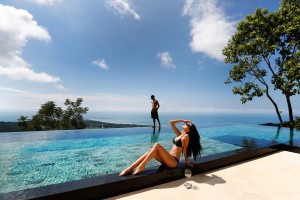 Restaurant
Enjoy traditional and Costa Rican fusion cuisine–or most anything you desire for breakfast, lunch and dinner at our casual restaurant. We use local, primary, organic tropical ingredients to present a creative yet simple menu. Micro greens, lettuce, basil and other herbs are produced in our greenhouse with environment- friendly techniques. We make sure our suppliers provide us only with 100% sustainable and responsibly caught fish.
Kurà's Chef trained with Jose López, Cayuga's culinary expert! Born and raised in Uvita, he creates unique flavors while also bringing our traditional "Tico" essence to the table.
Wake up with a fresh cup of Costa Rica's finest coffee or fresh-squeezed juice and a hearty complimentary breakfast. Lunch at our restaurant features organic salads, scrumptious sandwiches, and freshly prepared ceviche specialties. As night falls, the restaurant transforms into a romantic oasis of candles and smooth music. Mouthwatering entrees such as the "Caribbean Tenderloin Filet" or the "Pan Seared Fresh Catch of the Day" will take your taste buds to a new level. Paired with a glass of wine, Kurà´s impeccable service and the surrounding sounds of the forest you will be wrapped in pure bliss.
Our staff is happy to accommodate special meal requests or private dinners; we also offer delectable vegetarian, vegan, and gluten-free menus.
Diablitos Bar
Relax and casually sip a classic, handcrafted Kurà cocktail at Diablitos Bar. Each recipe boasts refreshing and delicious spirits. Get a locally crafted artisanal beer from our fridge. The modern, custom-built bar has an open design, allowing guests an easy access to the infinity pool or lounge.
Feel warm winds and crisp breezes while enjoying a perfect view of the iconic whale-tail sandbar, better known as the Cola de Ballena.
Use our telescope to spot wildlife in the surrounding rainforest. Or sit back and watch toucans and great kiskadees soar through the sky at eye level.
Spa Shà
Couples can enjoy a selection of beauty and wellness treatments including massages, facials, body wraps, scrubs and deep tub soaking. Rejuvenate your body and mind with a private yoga class with our qualified instructor. Afterward, retreat to the extra-large stone shower overlooking the rainforest and ocean. Schedule a manicure and pedicure. With a fresh breeze circulating through the open-air sanctuary, the Spa truly is the epitome of relaxation. We can accommodate any desire to make your spa day as perfect as possible. Cocktails, desserts, music…we want your time to be romantic and memorable.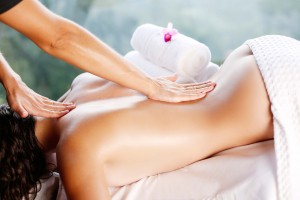 Sky Lounge
During the day, enjoy our complete 360-view of a dense jungle valley and an infinite ocean horizon. When night falls, our sky lounge transforms into a romantic, magical hideaway flooded with stars. The tranquil yet sexy atmosphere makes it the perfect place to relax or end your day.
Great Tours Offered From The Kura Design Villas By Bill Beard's: LEARN MORE
To see all the other adventure tours that Bill Beard's operates Throughout Costa Rica: CLICK HERE
[thethe-image-slider name="Kura Design Villas In Costa Rica"]
Bill Beard's Costa Rica has privately escorted tours and first class accommodations throughout the country that may be added to other packages.
We also offer world class adventure tours, scuba diving, snorkeling, surfing, sailing and fishing.
We arrange everything in advance, so you can relax and enjoy your vacation.
Our Reservation Office Is Located In La Fortuna, Costa Rica In The Shadow Of Arenal Volcano, behind the Catholic Church, Near The World Famous Hot Springs.
For Reservations & Information
Contact Our Office At 877 853-0538 or 954 453-5044 M – Sat., 9 – 9 ET
Sign up for our Latest Newsletter & Adventure Travel Deals
 Kura Design Villas in Costa Rica