Below are 7 of our most popular high adrenaline adventure tours in the La Fortuna – Arenal Volcano area..
To see 33 more soft, medium and high exertion tours in this area: CLICK HERE
To see all 189 tours by area that we operate daily throughout Costa Rica: CLICK HERE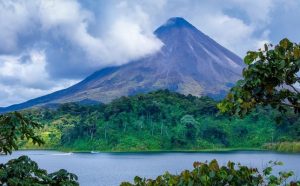 The Arenal Volcano Area is one of the most popular tourist destinations in the country, as it is blessed with surrounding natural beauty, including the imposing Arenal Volcano and the amazing Lake. Placed in a unique transition area between the rain forest and the Monteverde Cloud Forest you will find the Arenal Reserve. Experience the most spectacular views of the Arenal Volcano & Lake from one of our unique tours.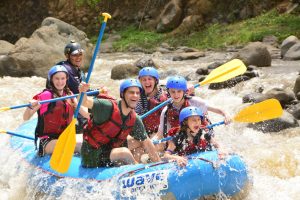 The most popular activity at La Fortuna – Arenal Volcano Area is white water river rafting. There are several rivers available, namely Sarapiqui, Balsa & El Toro and no matter what your level of expertise we have a river for you. Rafting options exist for all ages and abilities, and can range from maneuvering through technical rapids to gliding along smooth stretches that are ideal for nature watching. Professional guides attend the adventures and ensure that all experiences are safe, fun and memorable.
White water tubing is an activity where you use a large inner tube to float down a body of water, using both the natural rapids and your own steering. Tubing is different from white water rafting in that each individual is in their own tube, instead of everyone being
grouped into one raft. The tubes are safe since they are covered by a canvas that is tough enough to protect against puncture. A white water rafting tube will also have some safety and comfort features, including side handles, inflatable head or back rests, and center seats. You don't use a paddle when tubing, but instead steer using the side handles, and by using your own hands to paddle and push through the water. It  is a fast water path with controlled rapids and the thrill of being carried by the current towards the rapids and the force of inertia that will get the adrenaline pumping.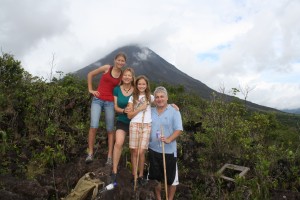 Hiking tours of Arenal Volcano consists of walking near the most resent lava flow. At some of these places you may have the chance to see some of present activity (depending of weather conditions), plus the view from the Arenal lake, great hike!!, followed by a delicious lunch at the hot springs restaurant, then time to relax your mind and body as you enjoy one of these therapeutic volcanic hot water springs, surrounded by mother nature, rain forest, volcano and magnificent infrastructure of pools, waterfalls and wet bars that will make your visit to these place memorable.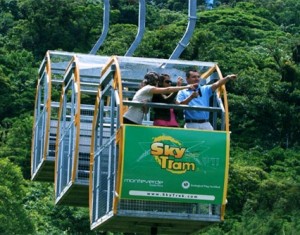 Your zip lining tour will start with you riding an open-air gondola from the ground to the heights where you'll be dropped off at an observation area for fantastic views. From this area, you will start riding down on a zip line track stretching across canyons and in between treetops, the exhilarating adventure of zip lining down the mountainside begins; ultimately returning you to the starting point at the main building. This is the most thrilling zip line in the country.
Waterfall rappelling, also known as canyoning, is one of Costa Rica's most thrilling and popular adventure sports. The concept is simple: suit up in a harness and belay your way down a waterfall. In practice, the sport is more exciting, more fun, more everything than you could ever imagine. It involves hiking, climbing and, yes, rappelling on a tour that creates memories to last a lifetime. This is the original Wet'n Wild, and yes, you will be soaked to the skin.
Always wear lightweight or quick-drying clothing and your most water-resistant shoes. And if you can bear, leave the camera behind (most tours include a photographer who snaps pro photos as you descend the falls) or ask about bringing your GoPro.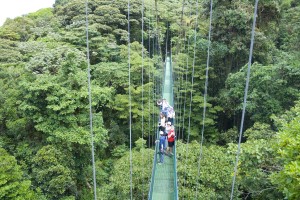 Sky Walk Hanging Bridges uses trails and a series of suspension bridges for a more relaxing introduction of the flora and fauna of the forest canopy. It allows a vision of the forest from a different perspective which starts with a hike on the ground and then taking you to explore the treetops, a hardly discovered habitat called the "canopy" with a naturalist guide.
In Costa Rica, Sky Adventures was the pioneer in building hanging bridges, with the introduction of Sky Walk, to admire the forest from unique viewpoints. Sky Walk's bridges span across canyons and bring visitors face to face with the upper level of the forest canopy.
Costa Rica's hot springs are a wonderful introduction to the relaxation and rejuvenation found in this tropical splendor. The mineral-laden waters of the hot springs in Costa Rica have been used for therapeutic reasons for over 200 years, treating a variety of aches and pains. Whether or not you visit for the mystical healing, a hot springs visit is a joy!
Formed by volcanic springs heated underground and returned to the surface, the Costa Rica hot springs offer travelers the opportunity to relax and renew in mineral-laden water. Here, magma or lava has worked its way up through the Earth's crust to relatively shallow depths below the surface. Ground water percolates downward, comes in contact with the hot rock and is heated. As the water returns to the surface, it collects into pools known as hot springs.
Surrounded by tropical beauty and neck-deep in a natural Jacuzzi, guests delight in the true sense of rejuvenation that comes from a visit to Costa Rica's hot springs. With a number of different locations to visit, each with their particular ambiance and specialty, there's something to fit any traveler.
Sublimely beautiful Costa Rica has something for everyone. The treats range from exciting adventure to leisurely relaxation, and everything in between that we can add to any vacation package. Furthermore, tourists can sample the laid-back national lifestyle that ticos (the name the Costa Ricans call themselves) refer to as 'Pura Vida' – 'pure life': no stress, no hassle. All this, combined with unsurpassed natural beauty and a developed and accommodating tourist industry, makes Costa Rica a wonderful place to visit and vacation.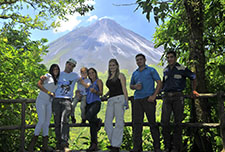 Our agents can set up the all inclusive or al a carte vacation package and itinerary you want throughout the country.
See Our 23 Minute Video All About Costa Rica, Scuba Diving & Adventure: SEA HERE

Our Reservation Office Is Located In La Fortuna, Costa Rica In The Shadow Of Arenal Volcano, behind the Catholic Church, Near The World Famous Hot Springs.
For Reservations & Information

Contact Our Office At 877 853-0538 or 954 453-5044 M – Sat., 9 – 9 ET
Sign up for our Latest Newsletter & Adventure Travel Deals
Get Connected And Stay Up To Date With Bill Beard's
Like Us On Facebook
Follow Us On Twitter
Watch Us On YouTube
Connect On LinkedIn
Check Us Out On TripAdvisor
IMPORTANT NOTE – Please be advised that every reasonable effort has been made to keep all prices up to date and free of errors or omissions. Prices and policies from our vendors and the Costa Rican government are subject to change without notice. Invoices will be issued at the time of booking to confirm all final rates and offers.