Where To Dive In Costa Rica Is Something We Often Hear. I've always believed the best dive site is the one I dove last. We have over 75 dive sites in Costa Rica and I guarantee you that someone thinks one of them is their "best dive ever". So much depends on what your experience was. Such as, weather, seas, conditions, water temperature, visibility, the dive operator, what you saw and probably the most important of all is the group you were diving with. A great group makes for a great dive no matter what.
Cocos Island, Costa Rica is probably the world's best diving. if not the best, surely in the top ten but first we will concentrate on land based diving.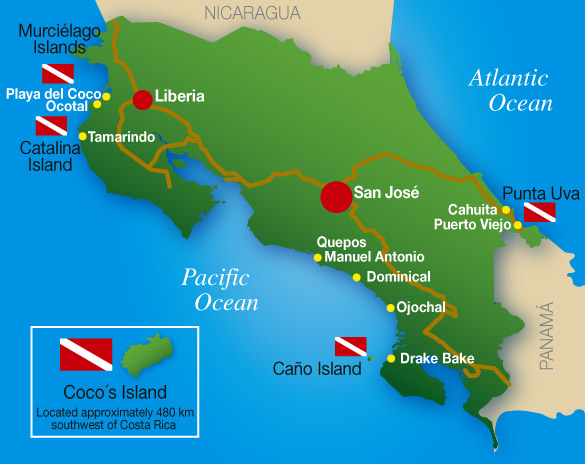 Northwest Pacific Dive Sites:
The most popular area in Costa Rica for mainland diving. Most of the all inclusive beach resorts and other hotels we use are within 30 minutes of Liberia International Airport (LIR). This is where you go to dive the Gulf Of Papagayo and the famous Bat & Catalina Islands from Playa Hermosa, Four Seasons, Villas Sol, Bosque Del Mar, Andaz, Mangroove, Flamingo, Tamarindo AND MORE.
Central Pacific Dive Sites:
Manuel Antonio contains a charming combination of rain forest, beaches and coral reefs. This beaches are some of the most beautiful in the country, lined with lush forest, and the snorkeling is excellent too. Manuel Antonio National Park is home for sloths, iguanas, the rare and adorable squirrel monkeys and millions of colorful little crabs. And the trail that winds around Punta Catedral affords some spectacular views. The park is easy to reach, south of the town of Quepos, and is near a good selection of hotels and restaurants.
South Pacific Dive Sites:
Whether you're a beginner, intermediate, or advanced diver, or just snorkeling, the variety of rich and abundant marine life will amaze you. With visibility 30 – 100 ft. or more year-round, and teeming with exotic sea life, diving. Cano Island is located 12 miles offshore from Drake's Bay and Aguila de Osa. Our choice for combination scuba diving and Corcovado adventure, Due to the remote location it is difficult to go to Cano Island just for one day of diving and you are better off to book Bill Beard's Cano Island and Corcovado National Park adventure package. You can go in one day from Manuel Antonio by boat, it is 4 hours and it requires reservations and a minimum number of divers way in advance.
Caribbean/Atlantic Dive Sites.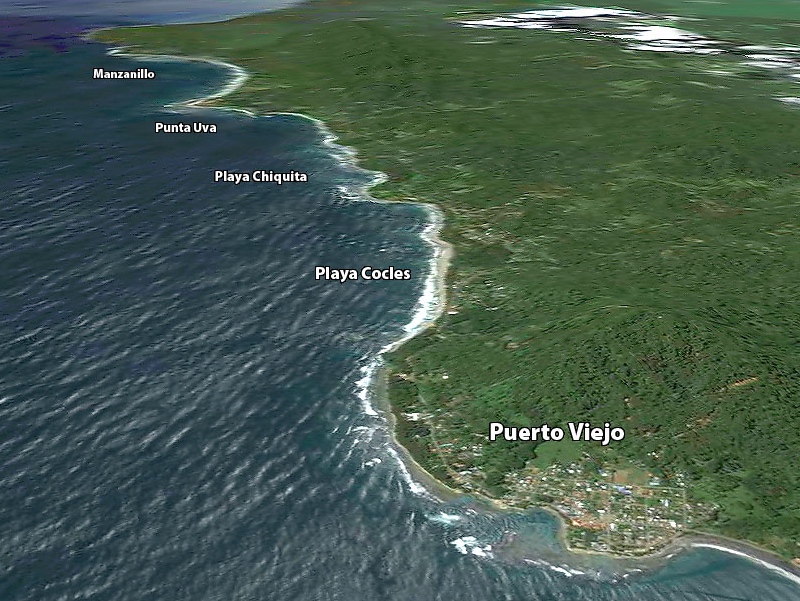 Costa Rica's Caribbean Sea coast offers a wonderful underwater adventure: The scuba diving and snorkeling is around Cahuita, Puerta Viejo and Manzanillo, South of Puerto Limon. This stunning fringing reef (a growing reef close to the shore) offers a unique marine biodiversity, packed with fish and living coral.Sea rods, sea fans, elk horn coral, brain coral, fire coral, not to mention the beautiful tropical fish like the parrot fish, angel fish, scorpion fish, barracuda, butterfly fish, trunk fish, spotted eagle ray, green moray, and thousands more, including the evasive nurse shark and black tip Shark. Very often you will see spiny lobster, octopus –at night- , crabs, and the whole invertebrate family; nudibranchs, Spanish dancers, and more. The diving on the Caribbean is not well organized and the reefs are located near the beach where you get a lot of run off from the near by mountains and jungles. Here is a list of hotels in this area that we recommend and book.
Cocos Island Costa Rica: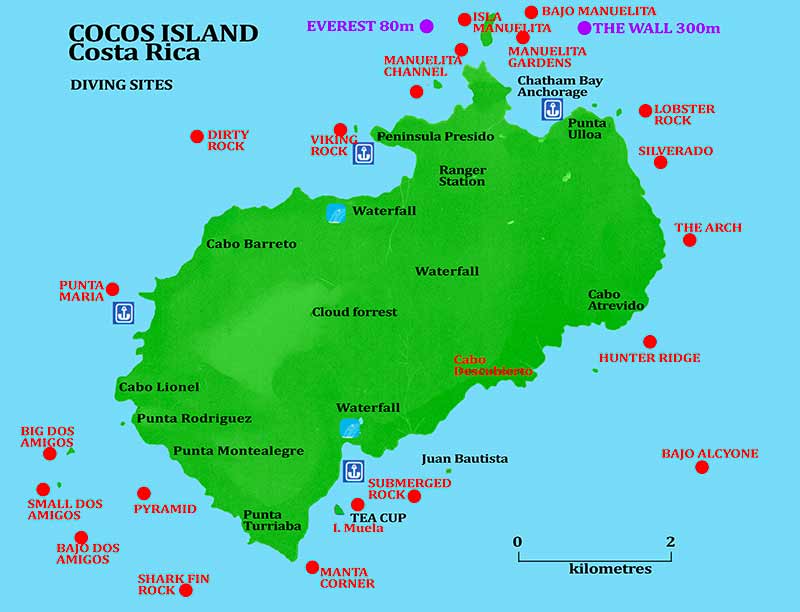 Located in the Eastern Tropical Pacific, 300 miles southwest of Cabo Blanco, Costa Rica, lies the renowned Cocos Island Marine Park. A rugged yet incredibly verdant island, this World Heritage Site is the spectacularly beautiful crown jewel of Costa Rica's many National Parks. In 1994, after several return visits to the island, Jacques Cousteau pronounced Cocos, "The most beautiful island in the world."
The island has an irregular coastline, which makes precise estimation of its land area more a matter of opinion than a surveyor's science, but it is roughly five miles by two miles (8 x 3 kilometers).
Cocos Island was formed during a volcanic upheaval about two-and-a-half million years ago and is composed of basaltic rock, labradorite and andesite lava flows. Its landmass is punctuated by four mountain peaks, the highest of which is Cerro Iglesias, at 2,080 feet or 634 meters above the sea.
There are only two bays with safe anchorages and sandy beaches: Chatham is located on the northeast side and Wafer Bay is on the northwest. Just off Cocos are a series of smaller basaltic rocks and islets. The largest satellite is Isla Manuelita (formerly Nuez).
Thanks to the breathtaking marine life in its waters, Cocos Island was named one of the ten best scuba diving spots in the world by PADI (Professional Association of Diving Instructors) and a "must do" according to diving experts.