Natural Hot Springs in Costa Rica
Costa Rica has nearly 200 volcanic formations, 100 or so of which show signs of volcanic activity, and five that are classified as active volcanoes: Arenal, Poás, Rincón de la Vieja, Irazú, and Turrialba. As a result there are multiple natural hot springs located around the country which are safe enough to bath in. Formed by volcanic springs heated underground and returned to the surface, the Costa Rica hot springs offer travelers the opportunity to relax and renew in mineral-laden water. Here, magma or lava has worked its way up through the Earth's crust to relatively shallow depths below the surface. Ground water percolates downward, comes in contact with the hot rock and is heated. As the water returns to the surface, it collects into pools known as hot springs.
Tabacon Grand Spa Thermal Resort is home to one of the only completely natural hot springs that is present within a resort in the Arenal/La Fortuna area. The hot springs of Tabacon do not use any pumps or re-heating systems. The springs range in temperature from 25-50 Celcius/77-122 Fahrenheit. There are multiple different pools to choose from and even an adult-only area called Shangri La Gardens. Guests can enjoy a warm and relaxing bath in mineral rich waters while being surrounded by lush native vegetation at Tabacon.
The Springs Resort and Spa is one of the top luxury resorts in La Fortuna, with quite a few natural hot springs on the property for guests to enjoy. The resort is split up into two sections, La Lagunas and Perdido Springs. La Lagunas has eight hot spring pools that have varying temperatures between 28.3-40 Celcius/83-104 Fahrenheit. Perdido Springs is a beautiful maze of garden trails and hot spring pools. This part of the resort is usually a bit more tranquil.
Eco Thermales hot springs is located on a privately owned and family operated property; it is one of the few in the La Fortuna area that is not part of a large resort. A limited number of guests are admitted to the springs at any given time, so those who visit here can expect a more peaceful and even romantic atmosphere. The springs offer total thermal and mineral rejuvenation in a beautiful rainforest setting.
Titoku hot springs is one of the smaller locations in the Arenal area, thus making it an ideal option for those looking to get away from the crowd and unwind in a more serene setting. Non-hotel guests can purchase a day pass at Arenal Kioro to the eight pools which vary in size and temperature. Maximum capacity of the hotel and hot springs is 80 people, so it's rare that you'll find the pools to be over-crowded.
Baldi Hot Springs just 1.6 mi from the Arenal Volcano, the Baldi Hot Springs Hotel & Spa offers 25 thermal pools, waterslides, landscaped gardens, air-conditioned suites, and parking. The stylish suites at the Baldi Hot Springs Hotel feature free Wi-Fi, flat-screen cable TV, a coffee maker and mini-bar. The private bathrooms come with free toiletries, bathrobes and slippers. Guests have a lot of choice when it comes to picking that perfect hot spring spot for a quick dip in nature.
The Borinquen Mountain Resort is located on the slopes of the Rincon de la Vieja Volcano. The resort offers guests and visitors a wide variety of adventure tours, such as canopy zip-lining, horseback riding, white water rafting, and waterfall tours. There are hot springs with mud baths located on the property for guests to enjoy after a fun and adventurous day on the ranch.There is a wonderful spa looking down on the river and a relaxing jacuzzi.
There are other hot springs and spas located throughout the country and Bill Beard's will be happy to make reservations and provide transportation for you.
Costa Rica's hot springs are a wonderful introduction to the relaxation and rejuvenation found in this tropical splendor. The mineral-laden waters of the hot springs in Costa Rica have been used for therapeutic reasons for over 200 years, treating a variety of aches and pains. Whether or not you visit for the mystical healing, a hot springs visit is a joy!
Surrounded by tropical beauty and neck-deep in a natural Jacuzzi, guests delight in the true sense of rejuvenation that comes from a visit to Costa Rica's hot springs. With a number of different locations to visit, each with their particular ambiance and specialty, there's something to fit any traveler.
Sublimely beautiful Costa Rica has something for everyone. The treats range from exciting adventure to leisurely relaxation, and everything in between that we can add to any vacation package. Furthermore, tourists can sample the laid-back national lifestyle that ticos (the name the Costa Ricans call themselves) refer to as 'Pura Vida' – 'pure life': no stress, no hassle. All this, combined with unsurpassed natural beauty and a developed and accommodating tourist industry, makes Costa Rica a wonderful place to visit and vacation.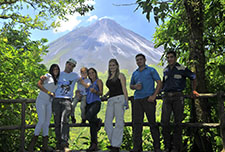 Our Reservation Office Is Located In La Fortuna, Costa Rica In The Shadow Of Arenal Volcano, behind the Catholic Church, Near The World Famous Hot Springs. Nothing to learn here – Just wade into the thermal waters under the waterfalls.
Our agents can set up the all inclusive or al a carte vacation package and itinerary you want throughout the country.
See Our 23 Minute Video Alll About Costa Rica, Scuba Diving & Adventure: SEA HERE

Our Reservation Office Is Located In La Fortuna, Costa Rica In The Shadow Of Arenal Volcano, behind the Catholic Church, Near The World Famous Hot Springs. Phone 877 853-0538 or 954 453-5044 M – Sat., 9 – 9 ET or e mail agent@billbeardcostarica.com
For Reservations & Information

Contact Our Office At 877 853-0538 or 954 453-5044 M – Sat., 9 – 9 ET – E-Mail agent@billbeardcostarica.com

Sign up for our Latest Newsletter & Adventure Travel Deals: CLICK HERE
Get Connected And Stay Up To Date With Bill Beard's
Like Us On Facebook
Follow Us On Twitter
Watch Us On YouTube
Connect On LinkedIn
Check Us Out On TripAdvisor
IMPORTANT NOTE – Please be advised that every reasonable effort has been made to keep all prices up to date and free of errors or omissions. Prices and policies from our vendors and the Costa Rican government are subject to change without notice. Invoices will be issued at the time of booking to confirm all final rates and offers.