Costa Rica Dive, Surf & Rainforest Package


2 Dive Day / 2 Days ATV Surf Package with 5 Nt beach stay, 1 Nt Rainforest & Arenal Volcano.plus 1 Nt San Jose.
FLY INTO DANIEL ODUBER (LIR) — FLY OUT OF JUAN SANTA MARIA (SJO).
Tamarindo Diria Beach Resort has the best location in the country if you want to both dive and surf. Located directly on Tamarindo's eclectic Pacific beach, just walk right into the waves and start surfing.  Famous for surf schools and easily accessible waves, Tamarindo is a great place for surfers of all levels.  Bring your board or rent one and surf before and after your dive days, then discover surf locations to the North and South of Tamarindo via ATV with a local surf guide.  And as a bonus, divers will get to dive the famous Catalina Islands with a chance to see some interesting sites.  You never know when you might see the herds of cow-nose rays, schools of mobula rays jumping out of the water like popcorn from a hot pan or the giant Pacific Manta Rays with wing-spans from 12-24 ft!  Now that's exciting stuff!
What to expect:
Some of the best waves right outside your doorstep when staying at Tamarindo Diria.  So you can surf early morning before your dives and every afternoon when you return from diving — just how cool is that? But if you want to try a different set of waves, Langosta Beach is just a short distance from the town of Tamarindo. After your two dive days, you will spend two awesome days trekking to find gnarly waves to the North and South, and as though that wasn't enough, you will do it aboard ATVs guided by a local surfer who knows the waves.  Pura Vida!
The Catalina Islands offer some of the best diving in Costa Rica and arefamous for the tremendous amounts of marine life. Schooling fish on every dive site, white tip sharks, spotted eagle rays, southern sting rays and small critters like sea horses and harlequin clown shrimp. Add all that to the big stuff like whale sharks, manta rays, humpback whales, orcas, cow nose rays, pilot whales and you have world class diving and a life time of memories.
Now that you have had fun at the beach, you can experience the beauty of the rainforest and the thrill of nature as you raft down the rapids of Costa Rica's Balsa River.  Last night in the capital of Costa Rica — San Jose.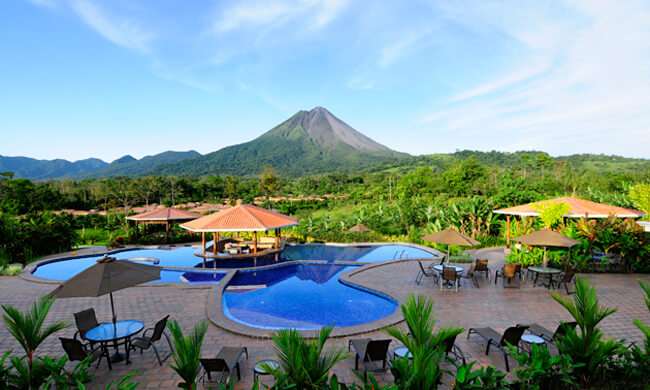 Summary: Costa Rica 9 Days • 8 Nights • 2 Dive Days • 2 ATV-Surf Days • 5 Nights Beach • 1 Night Volcano/Rainforest • 1 Night San Jose
ARRIVE Liberia (LIR), Five Nights at Hotel Tamarindo Diria, Playa Tamarindo with Two Local AM Boat Dives (includes tanks, weights, weight belt, and snacks on boat) just a short walk down the beach to catch the boat and Two Guided ATV Surf Excursions — one to the North and one to the South! Overland trip to Arenal Volcano. Enjoy world famous hot springs and buffet dinner. Travel to capital city of San Jose while experiencing an exciting White Water River Rafting trip along the way (Class II – III), Overnight San Jose, fly home on 9th day. DEPART San Jose (SJO)
TO SEE MORE ABOUT THIS AMAZING PACKAGE, CLICK HERE
Bill Beard's Operates 104 Soft, Medium & Extreme Adventure Tours Throughout Costa Rica that may be added to any vacation package.: LEARN MORE
Our Reservation Office Is Located In La Fortuna, Costa Rica In The Shadow Of Arenal Volcano, behind the Catholic Church, Near The World Famous Hot Springs.

For Reservations & Information

Contact Our Office At 877 853-0538 or 954 453-5044 M – Sat., 9 – 9 ET
Sign up for our Latest Newsletter & Adventure Travel Deals
IMPORTANT NOTE – Please be advised that every reasonable effort has been made to keep all prices up to date and free of errors or omissions. Prices and policies from our vendors and the Costa Rican government are or omissions. Prices and policies from our vendors and the Costa Rican government are subject to change without notice. Invoices will be issued at the time of booking to confirm all final rates and offers.