Resorts & Spas Costa Rica: Andaz Peninsula Papagayo is considered one of the best new hotels in the world. The magazine Condé Nast Traveler published the 2014 Hot List in which only 33 out of 400 new hotels are mentioned as the bests.
This list represents the tastes and preferences of the modern traveler, and Andaz Peninsula Papagayo, the first Andaz in Latin America, have captured the attention of most travelers and tourists that want to travel to Costa Rica.
Nestled in a location that is second to none, where the Gulf of Papagayo meets the sapphire blue waters of Culebra Bay, Andaz Peninsula Papagayo Costa Rica arrives to personify Costa Rica's "Pura Vida" (pure life) expression, an extension of the native spirit of the country. The design concept of Andaz Peninsula Papagayo by Costa Rican architect Ronald Zurcher translates the healthy and poetic integration of men and nature, with rooms that make you feel you belong to this breathtaking setting and buildings created to the images of creatures of the jungle – a perfect statement for the acclaimed Andaz personality and style.
Inspired by the local flora and fauna, the lay-out of the resort is based on an imaginary gathering of animals using the shapes of cocoons and shells for the design of the studios and pools. True to the Andaz brand, Andaz Peninsula Papagayo Costa Rica reflects the indigenous nature of Costa Rica, offers uncomplicated and personal service by real people who have a passion for their heritage and their role in the community. An open-air lobby welcomes guests, in an uncomplicated free-flowing environment, with no desks or formalities. The unique gastronomic experience of the Andaz Peninsula Papagayo ́s Cuisine features three themed restaurants, each one telling a story about our culture.  Our ultimate goal is to create experiences and indulge guests in inspired interactions with local culture.

The  Andaz Peninsula Papagayo Costa Rica offers a vibrant, stylish and indigenous lifestyle resort experience.
153 thoughtfully appointed guest rooms & suites with balconies
Four of the 21 suites feature plunge pools
9 Spa treatment rooms
Two multiple cascading outdoor infinity pools
8,200 square feet of flexible meeting space and 4 meeting studios
Three themed restaurants with quiet and privileged views of the sea
Even if you are anxious to disconnect from the world on our secluded beach, it is inevitable to check e-mail or print an important document. Our hosts can assist with requirements such as faxing, photocopying, large print jobs and secretarial services. Complimentary WiFi is also available throughout the resort, including in all guest rooms, restaurants, and bars.
The resort offers rooms for guests with special needs.
Facilities include:
Wheelchair-accessible doors
Roll-in showers with grab rails and a lowered sink/vanity
Toilets for the physically challenged offer easy access in public areas
Onda Wellness & Spa
Experience tranquility and holistic wellness on our 11,000 square-foot Spa.  Featuring 9 treatment rooms, 7 indoor and 2 outdoor. Connect with your soul through listening to the sound of birdsongs, the sea kissing the volcanic sand of the beach and the wind playing with the trees.
Select an array of therapeutic treatments, or try them all!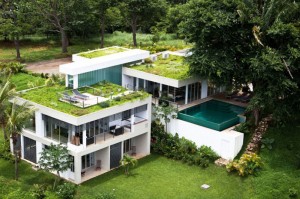 Hotel Activities
Daily Scuba Diving

Adventure Tours

Onda Wellness & Spa

Cambi Kids Club

Fitness Center at the Sanctuary

Beach Activities

Family Pool

Adults Only Pool

Art Space
Meetings And Events
True to Andaz' mission to stimulate the creative senses, our studios inspired by the organic forms and shapes of local flora and fauna will blow your mind.
Enjoy a hassle-free wedding ceremony, plan a social or formal event or enjoy an inspirational retreat. A variety of indoor and outdoor locations and an outstanding professional staff will guarantee the success of your event.
Andaz Peninsula Papagayo offers a level of flawless service and unparalleled surroundings. With magnificent views of Culebra Bay, the studios are truly unique.
To see adventure tours in the Papagayo area with Bill Beard's:  CLICK HERE
[thethe-image-slider name="Andaz Peninsula Papagayo Costa Rica"]
To see all the adventure tours that Bill Beard's operates in Costa Rica: CLICK HERE
Bill Beard's Costa Rica has privately escorted tours and first class accommodations  throughout the country that may be added to other packages.
We also offer world class adventure tours, scuba diving, surfing, sailing and fishing.
We arrange everything in advance, so you can relax and enjoy your vacation.
To see the dive sites available from this resort: CLICK HERE
For single, triple, quad or group rates, contact our agents.
Our Reservation Office Is Located In La Fortuna, Costa Rica In The Shadow Of Arenal Volcano, Near The World Famous Hot Springs.
For Reservations & Information
Contact Our Office At 877 853-0538 or 954 453-5044 M – Sat., 9 – 9 ET
Resorts & Spas Costa Rica